The Stellarium Gornergrat is a Swiss observatory devoted to outreach and pedagogy. The Stellarium is managed by CSH staff member Dr. Timm Riesen.

2017/06/01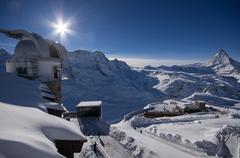 Media Release: Das Stellarium Gornergrat öffnet den Betrieb für Schulen (in German)
Das Center for Space and Habitability der Universität Bern (CSH) hat zusammen mit Partnern auf dem Gornergrat eine Anlage aufgebaut und eingerichtet, deren Teleskope und Instrumente primär für Bildungszwecke und die Öffentlichkeit zur Verfügung stehen. Auf diese Weise erhalten Schulen Zugang zu professionellem Equipment am vermutlich besten Sternen-Beobachtungsstandort der Schweiz.