18 December, 2019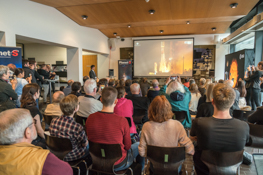 CHEOPS successfully launched
The relief was huge when the Soyuz Fregat rocket with CHEOPS on board took off shortly before 10 a.m. MEZ on Wednesday, 18 December 2019. The spectators at the University of Bern followed the ESA live coverage from Kourou, French Guiana, with great applause.
17 December, 2019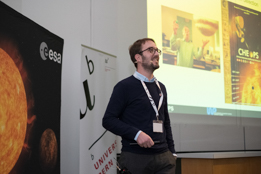 CHEOPS launch postponed
This morning the CHEOPS satellite should have started its journey into space. Less than an hour and a half before lift-off, the launch system was stopped. Despite everything, this event was celebrated in a well-attended event and short presentations provided insights into current exoplanet research. The launch is currently scheduled for Wednesday, 18 December 2019 at 9:54:20 CET.
19 November, 2019
The Red Planet: 50 years of Mars exploration / La planète rouge : 50 ans d'exploration de Mars
Conférence publique en français avec Nicolas Mangold, Directeur-Adjoint du Laboratoire de Planétologie et Géodynamique de Nantes. Introduction par Nicolas Thomas et Antoine Pommerol, Institut de physique, département recherche spatiale et planétologie de l'Université de Berne.
3 May - 5 May, 2019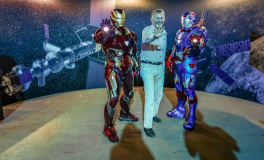 Fantasy Basel 2019
PlanetS was at the Fantasy Basel! And talked about many things with you!
27 August, 2018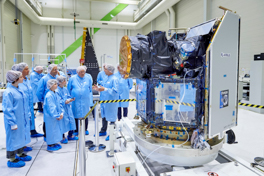 Bern's CHEOPS is flying into space soon
Professor Willy Benz explains details of the satellite to the guests in the clean room at RUAG.
20 October, 2017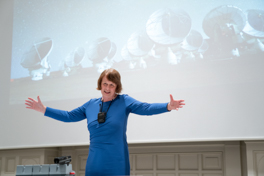 Ewine van Dishoeck: «Make sure that you are unique»
Ewine van Dishoeck during her lecture at the University of Bern. She was the driving force behind ALMA, the world's biggest radiotelescope.
9 March, 2017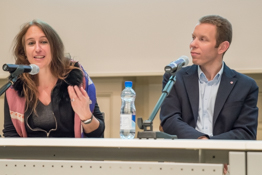 Dreams of another world
Public reading with science fiction author Laurence Suhner at the CSH. Science fiction author Laurence Suhner and Brice-Olivier Demory, professor at the CSH of the University of Bern and part of the discovery team of the TRAPPIST-1 system.
30 September, 2016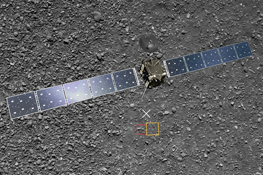 Rosetta's momentous end
Rosetta's landing site to scale on comet Churyumov-Gerasimenko.